NEW ! >> The FINAL VERSION of the Conference Program can be downloaded from http://www.telsiks.org.rs/cprogram.pdf.

Working group meeting of the COST Action IC 1407 Advanced characterization and classification of radiated emissions in densely integrated technologies (ACCREDIT) wil be held on October 17, 2017 at the Faculty of Electronic Engineering, University of Niš, Niš, Serbia. COST 1407 ACCREDIT Autumn Training school 2017, dedicated to the modelling and measurement of stochastic EM field, will be organized within the TELSIKS Conference on October 18, 2017 also at the Faculty of Electronic Engineering. The exact time and agenda of the WG meeting and Training school will be announced when the TELSIKS Conference program is published (August 31, 2017). More information about the COST Action 1407 ACCREDIT can be found on http://www.cost-ic1407.eu/

TELSIKS 2017 will be held at the Faculty of Electronic Engineering, University of Niš, Serbia.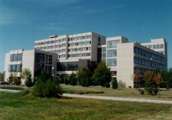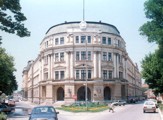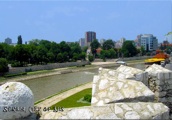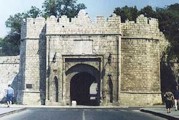 Niš is an administrative, economic and cultural centre of the South-East Serbia, some 240 km away from Belgrade. This city stands on the site of the Roman settlement of Naissus, the birthplace of Emperor Constantine the Great, in the valley of the river Nišava. There is a number of the ancient monuments in the city that testify about its stormy history. Niš is known as the greatest gate between East and West, because it is on the crossroad of the three important directions of the international highway, railway and air traffic.
Niš is a well-known university centre in Serbia, and Europe as well. Faculty of Electronic Engineering, one of the organisers of the conference TELSIKS and one of the most perspective university institutions in the country, gives great contribution to the development of the University of Niš as well as to development of the science of Republic of Serbia.

Topics covered by TELSIKS 2017 include, but are not limited to:
Satellite communications

Cable and optical communications

Mobile communications

Computational electromagnetic

Antennas and propagation

RF and microwave technique

Electromagnetic compatibility

Broadcasting and digital television

Digital signal processing

Multimedia communications

Broadband wireless access

Telecommunication networks

Modulations and coding

Internet technologies

New telecommunications technologies and services

Original, previously unpublished papers with scientific and technical contributions, are expected. ENGLISH will be the official language of the Conference. Maximal length of the regular paper is 4 pages (A4), and 10 pages (A4) for invited paper. Authors are invited to classify their papers according to the topics listed above. Detailed instructions for preparing a camera - ready manuscript are available at TELSIKS '17 official conference web page:
InstructionsForAuthors.pdf

| | |
| --- | --- |
| Submission of paper registration form: | (before the paper submission) |
| Submission of paper: | June 30, 2017 |
| Notification of acceptance: | August 31, 2017 |
| Program publishing: | September 20, 2017 |


Prof. Dr. Bratislav Milovanović is a Full Member of Academy of Engineering Science of Serbia from 2004, President of Society for Microwave Technique, Technologies and Systems, Serbia, Full Professor at the Singidunum University, Belgrade, Serbia. His research interests include microwave and optical engineering, broadband wireless communications, neural network applications in the area of telecommunications and computational electromagnetics. He is a member of Academy of Engineering Science of Serbia. more>>
Contact:
E-mail: telsiks@elfak.ni.ac.rs, batam@pogled.net,
Fax: +381 18 588 399, Phone: +381 18 588 320

Prof. Dr. Nebojša Dončov
Faculty of Electronic Engineering
Aleksandra Medvedeva 14,
18 000 Niš, Serbia and Montenegro
phone: +381 18 529 638
fax: +381 18 588 399
e-mail: telsiks@elfak.ni.ac.rs, (paper submission)
e-mail: nebojsa.doncov@elfak.ni.ac.rs

Prof. Juraj Bartolić, University of Zagreb, Croatia
Prof. Trevor Benson, University of Nottingham, UK
Prof. Tibor Berceli, University of Budapest, Hungary
Dr. Olga Boric-Lubecke, University of Hawaii at Manoa, USA
Prof. Zoran Bojković, University of Belgrade, Serbia
Prof. Djuradj Budimir, University of Westminster, UK
Prof. Christos Christopoulos, University of Nottingham, UK
Prof. Giovanni Crupi, University of Messina, Italy
Prof. Ivan Đorđević, University of Arizona, USA
Prof. Octavian Fratu, University Politehnica of Bucharest, Romania
Prof. Liljana Gavrilovska, Uni."Ss. Cyril and Methodious", Macedonia
Prof. Tatsuo Itoh, University of California, CA, USA
Prof. Miodrag Ivković, University of Novi Sad, Serbia
Prof. Aleksandar Jevremović, Singidunum University, Serbia
Dr. Branka Jokanović, Institute of Physics, Belgrade, Serbia
Prof. Bumman Kim, Pohang Univ. of Science & Tech., Rep. of Korea
Prof. Reinhard Knoechel, University of Kiel, Germany
Prof. Branko Kolundžija, University of Belgrade, Serbia
Prof. Zora Konjović, Singidunum University, Serbia
Prof. Roumen Kountchev, Technical University of Sofia, Bulgaria
Prof. Miroslav Lutovac, Singidunum University, Serbia
Prof. Vera Marković, University of Niš, Serbia
Prof. Zlatica Marinković, University of Niš, Serbia
Prof. Gyula Mester, University of Szeged, Hungary
Prof. Veljko Milutinović, University of Belgrade, Serbia
Prof. Jozef Modelski, Warsaw University of Tech., Poland
Prof. Kazumi Nakamatsu, University of Hyogo, Japan
Prof. Aleksandar Nešić, IMTEL, Belgrade, Serbia
Prof. Vitaliy Nichoga, National Academy of Science, Ukraine
Prof. Zorica Nikolić, University of Niš, Serbia
Prof. Djordje Paunović, University of Belgrade, Serbia
Prof. Daniel Pasquet, ENSEA, France
Prof. Zoran Perić, University of Niš, Serbia
Prof. Rade Petrović, Aris Technology, USA
Prof. Dragoljub Pokrajac, Delaware State University, USA
Prof. Zoya Popović, University of Colorado, USA
Prof. Božidar Radenković, University of Belgrade, Serbia
Prof. Kamisetty R. Rao, University of Texas, Arlington, USA
Prof. Branimir Reljin, University of Belgrade, Serbia
Prof. Irini Reljin, University of Belgrade, Serbia
Prof. Peter Russer, University of Munich, Germany
Prof. Magdalena Salazar-Palma, Univ. Carlos III de Madrid, Spain
Prof. Dominique Schreurs, Katholieke Universiteit Leuven, Belgium
Prof. Piotr Słobodzian, Wroclaw University of Technology, Poland
Prof. Aleksandra Smiljanić, University of Belgrade, Serbia
Prof. Petar Spalević, University of Pristina , Serbia
Prof. Mihajlo Stefanović, University of Niš, Serbia
Prof. Mile Stojčev, University of Niš, Serbia
Prof. Georgi Stoyanov, Technical University of Sofia, Bulgaria
Prof. Michael Theologou, Nation. Tech. University of Athens, Greece
Dr. Vladica Tintor, Nat. Agency for Electronic Communicati., Serbia
Prof. Sašo Tomažić, University of Ljubljana, Slovenia
Prof. Bane Vasić, University of Arizona, USA
Prof. Robert Weigel, FAU Erlangen-Nürnberg, Germany
Prof. Ke Wu, Ecole Polytechnique, Montreal, Canada
Prof. Felix Yanovsky, National Aviation University, Ukraine

Prof. Dr. Zoran Stanković
Faculty of Electronic Engineering
Aleksandra Medvedeva 14,
18 000 Niš, Serbia and Montenegro
phone: +381 18 529 302
fax: +381 18 588 399
e-mail: telsiks@elfak.ni.ac.rs, (paper submission)
e-mail: zoran.stankovic@elfak.ni.ac.rs